karen1 wrote:
artdorko wrote:
I wonder if there is a minimum. It might be fine to try an AI resort for a few days. I e never done AI. Do they have Fireball?
I think it's a 4 day minimum When I was checking pricing for Dec. Does anyone know if the Tam made the balconies more private with their renovations?
Karen, in looking at the pictures posted on Facebook the balconies are now concrete but have an opening that looks through into the next one.
Grabbed this off Facebook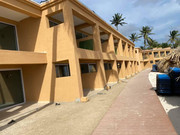 Mindy as for Fireball I don't know but they do have top shelf spirits.