Port City Oranjestad approved valued at US$550 million in investments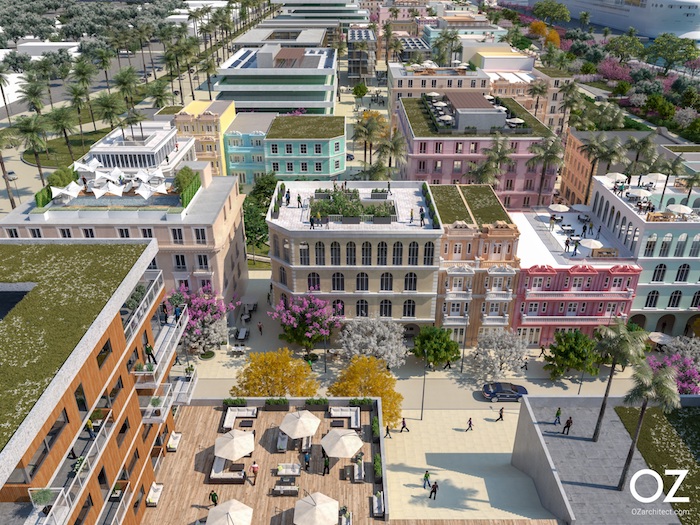 The government of Aruba approved the major master-plan to transform the former freezone area of
Oranjestad into a mixed use development by the name of Port City. The plan calls for a mix of retail
businesses, boutique hotels, residential complexes, offices, Aruba World Trade Center, recreational
zones (including the Aruba Botanical Gardens), a marina, a boardwalk from the cruise terminal towards
the Tamarijn Beach Resort, and a waterfront entertainment stage. The Bushiri Beach will remain public and easily accessible to cruise passengers.
Port City intends to connect people, urbanity, and the Caribbean Sea with each other, in what is to
became a vibrant urban section complimentary to downtown Oranjestad. In fact this plan is an
expansion of downtown Oranjestad towards the West. The plan will encompass an area of
approximately 20 acres, and will include a waterfront park accessible to the public.
The master-plan is divided into different plots with their set individual requirements. Investors will be
invited in the near future by the government to present their propositions per plot. The architectural
design of the buildings, and overall urban ambiance will reflect that of the Dutch tropical Caribbean.
Meaning pastel colors buildings, in so maintaining the cultural characteristics of Aruba. The government
will do its part on infrastructure investments which will include a new road alongside the park at the waterfront.
Port City is estimated at US$550 million worth in investments of which US$500 million from investors
and private contractors. The master-plan will take up to 10 years to be completed. The master-plan is
designed by OZ Architects in collaboration with the Port of Amsterdam, and Aruba Ports Authority. The plan is set to start
https://www.ozarchitect.nl/projects/por ... bor-front/